Thermocouple Conductor
York Wire & Cable, Inc. is a world wide distributor of electrical wire and cable. Since our founding in 1987 we have grown not only in size but in experience as well. With well over 50 years of working experience in the electrical wire and cable industry there is no other distributor with our commitment to the industry.
York Wire & Cable, Inc., as a world leader, has partnered with JLC Electromet Pvt. Ltd. to bring high quality thermocouple conductor to the Americas. As JLC Electromet's exclusive distributor for both North and South America, York Wire & Cable, Inc. is stocking a wide range of conductor for same day shipments.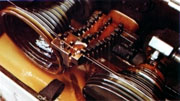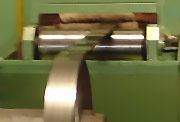 JLC Eelctromet Pvt. Ltd. boast five manufacturing plants which uses the purest raw material available to achieve the required chemical composition. A correct chemical composition is necessary to give uniform and exact thermoelectric properties. The alloys are melted, hot rolled and processed to final sizes using state of the art technology. Believing in continuous improvement; all of the processes are constantly monitored at each step using statistical process control tools to ensure the best quality of the final product.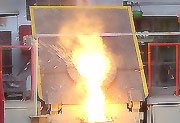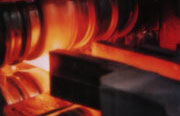 Thermocouples are formed by two dissimilar thermo elements so joined as to produce a thermal emf when the junctions are at different temperatures. Different types of thermocouple alloys are used depending upon the temperature being measured, working atmosphere and characteristics of physical atmosphere. JLC produces all the thermocouple types in various AWG sizes and put ups. Thermocouple strips are also manufactured.
All thermocouple conductor and strips are manufactured to meet or exceed the specifications of ASTM E230 and ANSI MC-96.1. Thermocouple alloy will also conform to IS, IEC, DIN, BS, NF, UNI, ENI, JIS, ENEL and GOST standards. Thermocouple alloy for mineral filled sheathed cables are made conforming to ASTM E608 and ASTM E585.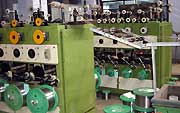 Thermocouple conductor and strips are offered in bright annealed condition. However, oxidized wire surface is also available for applications where corrosive atmosphere is present.
All thermocouple conductor is calibrated both at the mill and in the on site laboratory of York Wire & Cable, Inc. York Wire & Cable, Inc. has a state of the art calibration laboratory where every reel of conductor is tested before shipment. Each reel is checked for single element values. Each reel of conductor is tagged with the value of the deviation from the standard emf at specific temperature set points. Each reel is also fully tested at the mill for homogeneity of chemical composition, physical and thermoelectric properties before shipment. This includes the testing of electrical resistivity (loop resistance), which is an important property of thermocouple alloys.
Thermocouple conductor is available in different AWG sizes. Most common sizes range from 0 AWG (8.255 mm) to 35 AWG (0.142 mm). Strips and ribbons are also available in various sizes as well.


Wire Size
B & S Gauge14
Solid Conductor Diameter
Conductor
Tolerance
Inch
MM
14
.064
1.630

+/- .0007
16
.051
1.290
+/- .0006
18
.040
1.020
+/- .0006
20
.032
.813
+/- .0005
22
.025
.635
+/- .0005
24
.020
.508
+/- .0004
26
.016
.406
+/- .0004
28
.013
.330
+/- .0003
30
.010
.254
+/- .0003
32
.0008
.203
+/- .00025
34
.006
.152
+/- .00025
36
.005
.127
+/- .00025
Search Our Site
Nominal Resistance for Thermocouple Alloys in Ohms per Double Feet at 20°C
Size
BX
CX*
E
J
K
N
RX/SX
T
2
--
--
0.011

0.006
0.009
0.012
--
--
4
--
--
0.017
0.009
0.014
0.019
--
--
6
--
--
0.028
0.014
0.023
0.030
--
--
8
--
--
0.044
0.023
0.036
0.048
--
--
10
--
--
0.070
0.036
0.058
0.077
--
--
12
0.015

0.058
0.111
0.057
0.092

0.123
0.006
0.048
14
0.024
0.093
0.177

0.091
0.147
0.195
0.010
0.076
16
0.039
0.147
0.281

0.145
0.233
0.310
0.016
0.120
18
0.063

0.238
0.453

0.234
0.376
0.550
0.025
0.194
20
0.098
0.372
0.709
0.367
0.589
0.783
0.040
0.304
22
0.156
0.592
1.129
0.584
0.937
1.245
0.063
0.483
24
0.248
0.941
1.795
0.928
1.490
1.980
0.100
0.768
26
0.395
1.495
2.853

1.476
2.369
3.148
0.159
1.221
28
0.628
2.378
4.537
2.347
3.767
5.006
0.253
1.942
30
0.999
3.781
7.214
3.731
5.990
7.960
0.402
3.088
32
1.588
6.012
11.470
5.933
9.524
12.656
0.639
4.910
34
2.525
9.560
18.239
9.434
15.145
20.126
0.016
7.808
36
4.015
15.200
29.000
15.000
24.080
32.000
1.615
12.415

14
(7)

0.022
0.085
0.161
0.083
0.134
0.178
0.009
0.069
16
(7)
0.035
0.134
0.256
0.133
0.213
0.283
0.014
0.110
18
(7)
0.056
0.214
0.408
0.211
0.338
0.450
0.023
0.174

20
(7)

0.090
0.340
0.648
0.335
0.538
0.715
0.036
0.277
22
(7)
0.143
0.540
1.031
0.533
0.856
1.137
0.057
0.441
24
(7)
0.227
0.859
1.639
0.848
1.361
1.808
0.091
0.701
* Not an ASTM E230 symbol